History
Marshfield Brass Band was formed in the early 1930's with about eighteen players including three percussionists. During the 1939-45 war the band instruments were taken to nearby Colerne Aerodrome and used by the RAF Band. (Returned in poor condition)
During Pre-Christmas 1947, a few Pre-war members (M. Deacon, N. pullin, R. Purnell, D.Moules, P.Fuller&Ex RAF T.Olden) started practicing and then carol playing to raise funds to help reform the band.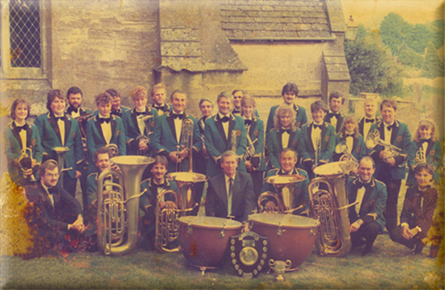 Above, The Band as it was in the early 1980s
In febuary 1948 Mr Herbert Sevior of Kingswood Bristol, was engaged as Bandmaster. Quite a few men from the village joined and added to the few pre-war members, the band started to develop over the next few years. The band started taking engagements at fetes, shows and carnival processions for a number of years.
During these years Mr V.Cook started a learners class for young boys and girls who later would join the main band in due course. At this time the band had purchased quite a selection of instruments to make up the required strength for contesting purposes. During this period Mr A.Hendy supplied his coach to take the band to all engagements free of charge (not many cars in those days) he also became a bass player.
When Mr Herbert Sevior resigned for a short period Mr Stan Young became Bandmaster. The band had lost quite a few members to other bands at this time. In the year 1963 the band was down to just eight players!.
Mr Chris Hart became Bandmaster bringing with him quite a few young members that he had been teaching. The band gradually progressed over the next few years, during which time the word "Bandmasters" was changed to Musical Director. Owing to other commitments Mr Hast resigned and Mr Daniel Weston took over.
A paper round was started around the village for around 18 months which helped to provide a new set of instruments for the band. The band started to become strong, enabling it to start contesting again. When Mr Weston resigned the band had a number of Musical Directors for short periods until Mr Melvin Howe took over.
The band won the Forth Section area contest, Weston Super Mare, Reading, Hanham and the Forest of Dean Contests over a Two year period, and travelled to Holland to play in town centres and the surrounding areas taking the Third Prize in the brass section of the Mastric European Contest.
Over the past few years through lack of members it has become very difficult to keep the band going, but thanks to the efforts of Mr S.Ruddell & Mr B Williams (a few staunch members) and with the help of players from outside the village, the band can still provide a creditable performance.
Thankyou To Derek Rudell for the above article.
Added by admin August 9, 2010 (9:06PM)